San Clemente Palace Kempinski Venice
San Clemente Palace Kempinski Venice
45.41107

,

12.335502
715US$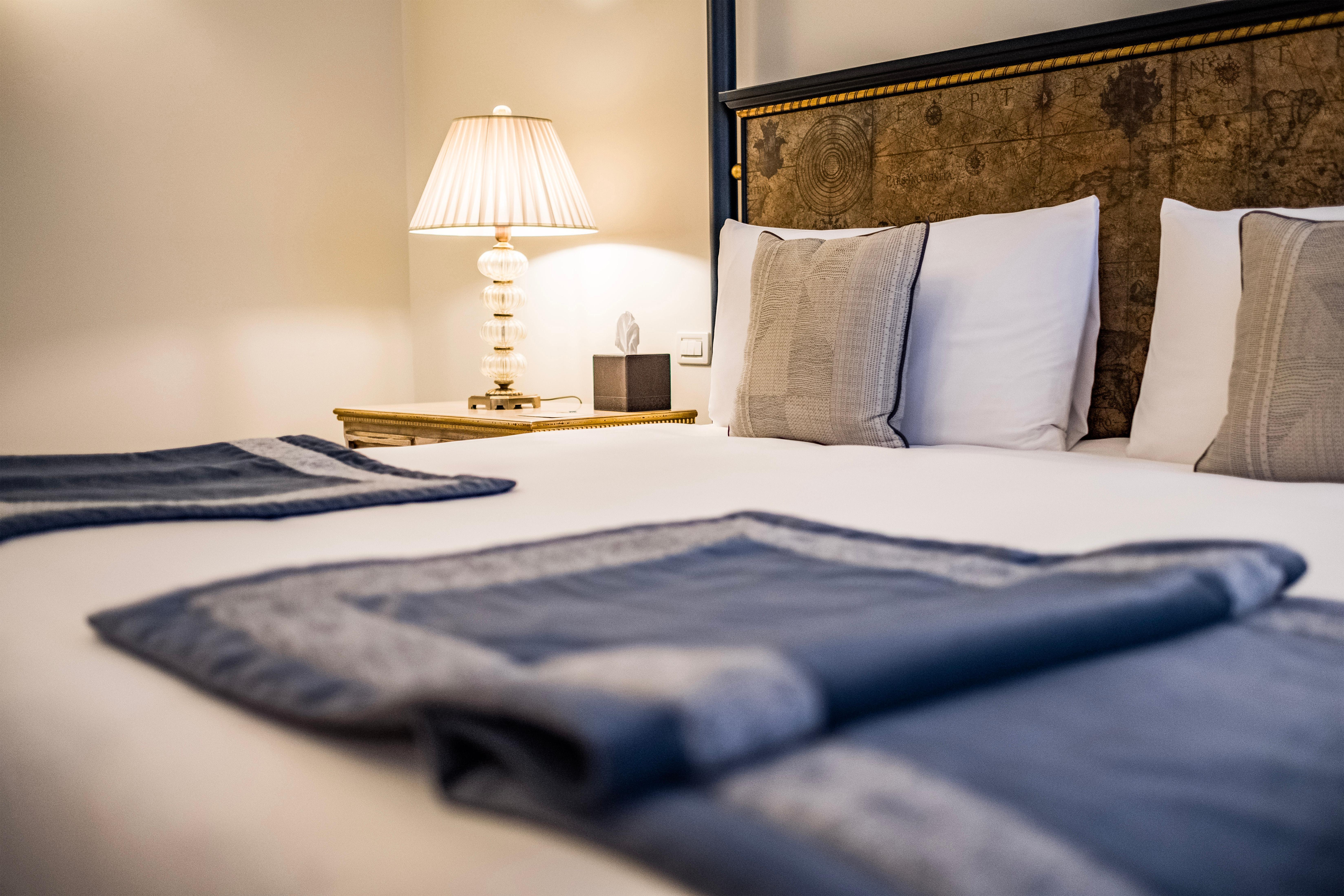 San Clemente Palace Kempinski Venice
Overview
Standing within 450 feet of Church of San Clemente, the exclusive San Clemente Palace Kempinski Venice offers an outdoor swimming pool. Set close to Church of the Santissimo Redentore, this Venice hotel boasts Mediterranean dishes served at the onsite à la carte restaurant.
Location
Guests can access San Rocco, Venice 10 minutes' drive from the hotel, while Gallerie dell'Accademia is 10 minutes' drive away. The Venice property offers proximity to natural sights like Giardini della Biennale Parkland (1.6 miles) and Parco delle Rimembranze (1.5 miles). The nearby cultural attractions include Ponte di Rialto, which is 2 miles from the luxury hotel.
Rooms
Some rooms provide a free minibar and tea/coffee making facilities as well as free WiFi and a cable flat-screen to help you enjoy your stay. Some of the 190 spacious rooms feature a spacious decor and a stunning view of the courtyard. The large bathrooms include rain showers and sauna together with robes.
Eat & Drink
The 5-star San Clemente Palace Kempinski Venice welcomes guests with a daily buffet breakfast. Guests can pick their preferred cuisine among Mediterranean, Italian and local options available in restaurants onsite. Guests can also enjoy alcoholic drinks at the poolside bar. Rialto Bridge offers a selection of dishes within 1.9 miles of the accommodation.
All visitors are offered a buffet breakfast for a fee. 
Leisure & Business
The San Clemente Palace Kempinski Venice offers tennis and golf while cars rental is also available. There is a fitness center at the San Clemente Palace Kempinski. Onsite wellness options include a spa complex along with reflexology, body wraps and body treatments. Business travelers will have access to a conference room provided on site.
Good to know
Amenities
No parking available.
Wireless internet is available in the entire hotel for free.
Other information
Breakfast
All visitors are offered a buffet breakfast for a fee. 
Children & extra beds
Maximum capacity of extra beds in a room is 1. 
Pets
Pets are allowed on request.
Languages
The hotel personnel speaks English, German, Spanish, Italian, Russian, Turkish, Arabic, Armenian.
Former name
The St. Regis Venice San Clemente Palace
Rooms and availability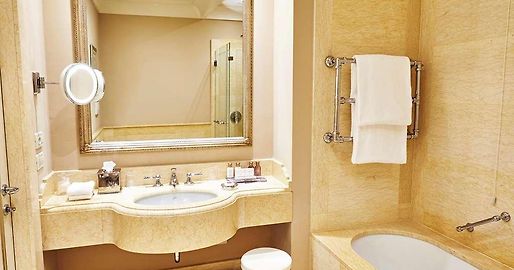 Superior Room Garden Courtyard View
Max:

2 persons

Room size:

360 sq. feet

Bed options:
Junior Suite Garden Courtyard View
Max:

2 persons

Room size:

585 sq. feet

Bed options:
Max:

2 persons

Room size:

585 sq. feet

Bed options:
Show 4 more room types
Less
Facilities
Main facilities
Baggage storage
Locker room
24-hour reception
24-hour security
Outdoor dining area
Poolside snack bar
Coffee/Tea in lobby
Restaurant buffet
Seasonal outdoor pool
Heated swimming pool
Sports & Fitness
Fitness center
Cycling
Tennis court
Golf course
Fitness studio
Services
Paid airport shuttle
Room service
Housekeeping
Laundry
Dry cleaning
Tours/Ticket assistance
Welcome drink
Happy hour
Dining
In-room breakfast
Restaurant buffet
Poolside snack bar
Outdoor dining area
Picnic area/ Tables
Coffee/Tea in lobby
Packed lunches
Special diet menus
Buffet breakfast
Business
Business center
Meeting/ Banquet facilities
Fax/Photocopying
Children
Cribs
Babysitting/Child services
Children's menu
Children's play area
Kids club
Spa & Leisure
Seasonal outdoor pool
Heated swimming pool
Beach umbrellas
Sun loungers
Sun terrace
Garden area
Spa & wellness center
Sauna
Turkish bath
Steam room
Jacuzzi
Facial
Treatment room
Beauty treatment
Massage
Room features
In-room air conditioning
Heating
In-room safe
Mini-bar
Soundproofed rooms
Adjoining rooms
Sitting area
Terrace
Garden furniture
Tea and coffee facilities
Ironing facilities
Bathroom
Separate tub and shower
Hair dryer
Free toiletries
Media
Flat-screen TV
Telephone
AM/FM alarm clock
Show all facilities
Hide facilities
Essential information about San Clemente Palace Kempinski Venice
| | |
| --- | --- |
| 💵 Lowest room price | 715 US$ |
| 📏 Distance to center | 2.2 mi |
| 🗺️ Location rating | 9.0 |
| ✈️ Distance to airport | 16.0 mi |
| 🧳 Nearest airport | Marco Polo, VCE |
Location
Address
The address has been copied.
Isola Di San Clemente 1
,
Venice
,
Italy
,
30124
,Area Nord
Isola Di San Clemente 1
,
Venice
,
Italy
,
30124
,Area Nord
City landmarks
Nearby
Restaurants
Hotels nearby
Church
Basilica di San Marco
1.6 mi
Museum
Peggy Guggenheim Collection
1.4 mi
Church
Basilica of St Mary of Health
1.4 mi
Church
Church of San Giorgio Maggiore
1.3 mi
Museum
Gallerie dell'Accademia
1.4 mi
Sestiere San Marco 328
Campanile di San Marco
1.6 mi
Ruga degli Orefici (Rialto) San Polo
Gallery
Punta della Dogana
1.4 mi
Campo San Biagio Castello 2148
Museum
Naval History Museum
1.7 mi
Gallery
Palazzo Cavalli-Franchetti
1.5 mi
Church
St Mary of the Friars Santa Maria Gloriosa dei Frari
1.8 mi
Isola di San Giorgio Maggiore
Church
Chiesa dei Gesuati o Santa Maria del Rosario
1.3 mi
Library
Libraria Aqua Alta
1.9 mi
Campo San Trovaso 1097
Squero di San Trovaso
1.4 mi
Church
Church of the Santissimo Redentore
100 yd
Island
Isola di San Clemente
100 yd
Restaurant
Acquerello Restaurant
100 yd
Reviews of San Clemente Palace Kempinski Venice
Share your experience with us.
Write a Review
Stanley

Gorgeous and wonderful place with good Wi-Fi and a la carte restaurant. Astonishing breakfast, plenty of meals. Exceptional staff, new-fashioned rooms with nice interior. Marvellous location a 10-15 minute walk from Ala Napoleonica. Found in the very relaxing area short walk to a separate Island close to St Marco, the laguna whatsoever and Venice's San Marco square.

Ralph

Located on a private island away from the hubbub of the city, Aquerello restaurant offers a serene dining experience. Guests can escape the sea of tourists in nearby San Marco and enjoy a peaceful atmosphere while indulging in delicious cuisine. The rooms at the hotel are grand and luxurious, with terrazzo floors and stunning views across the lagoon to the city. The service is consistently good, with attentive staff and impressive cleanliness throughout the grounds.

Some guests have experienced issues with the service, where requests were not handled promptly or efficiently.

missing

Very nice amenities, the place is magnificent, the rooms are very comfortable, all in an ultra peaceful atmosphere... a nod to the kindness of the team: concierge, room service, shop manager and the whole crew... ideal for enjoying Venice and real moments of relaxation at the same time.

missing

large pool; free shuttle service; super breakfast; nice rooms; well-kept green area with great views of Venice; windows were closed but were opened on request. Tickets for the Doge's Palace are available at the hotel.

We had a very small shower cubicle in a big bathroom. Food and drinks are very expensive but good. Cappucino cost 9 EUR!!!!! Small bottle of water - 7 EUR. We got a kettle on request, but without tea or instant coffee ... a little poor for a five-star hotel. Bring it with you. :-)

Paul

Luxurious, glamorous private boat, huge grounds, well maintained garden, swimming pool, kids club, well dressed guests, grand and stylish, friendly staff, lovely anniversary celebration.

missing

Breakfast was excellent. Pool was great. Complete outdoor facilities incl. tennis court was very well maintained. Boat shuttle service to the city all day was fast and reliable.

The price/performance ratio of the dishes in the restaurant at dinner is not satisfactory. it's better to go to the city for dinner.

Dick

It was a great hotel with loyal staff.

Anthony

The location of the hotel is perfect, situated on beautiful San Clemente Island away from the hustle and bustle of the city. The grounds are stunning, with a picturesque courtyard where you can enjoy breakfast. The rooms are nicely designed, with comfortable beds and spacious bathrooms. The service is exceptional, with friendly staff who go above and beyond to make your stay memorable. The breakfast spread is impressive, offering a wide selection of delicious food. Additionally, the hotel offers facilities such as a pool and tennis courts.

Limited dining options.

missing

when you go out of the water taxi you feeel transported into another world. The large park with the magnificent swimming pool invites you to linger. you can pamper yourself with a cocktail or a small snack. The rooms are very spacious and the oversized bed is wonderfully comfortable. The breakfast is very generous and clearly arranged. We are happy to come back to this excellent place.

Roy

Nice pool, parking by the hotel. Stylish room, extremely comfy beds, awesome breakfast.

Peter

Stayed at the beautiful San Clemente Palace, a peaceful oasis minutes away from the center. Impressive historic church and palace, with lush gardens perfect for a calm walk. Luxurious rooms, excellent staff, and a lovely breakfast buffet. Complimentary soft drinks and water in the room was a nice touch. The hotel's private boat made traveling to and from the center feel glamorous. Would love to visit again in the future.

Strongly recommend this hotel.

missing

We had room 352 on the 3rd floor, clean and spacious but uninspired... could get the climate control to meet the desired setpoint and couldn't get the confort level expected. Overall like the location and experience but this didn't fell like the 5* it claims to be. Large public groud, with pool,tennis, putting... It was really hot while we were there and we opted for the indoor Jacuzzi to relax. In fact we would get up, breakfast then head to San Marco around 11am then back to the SPA areound 4pm til 6pm then back to San Marco for dinner... this worked out great everyday. Full buffet breakfast was included but it did sometime run low on bacon and eggs.. The hotel itself is quite large and located ona private island at about 10mins boat ride which runs every 20mins. Found that entertaining and easy to use, compare to the poor folks lugging their lugage across multiples bridges! If you're getting there by train or drop off a rental, I suggest you get on Linea 1 to make the journey down the Grand Canal. If leaving/arriving by plane(VCE), Alilaguna's Linea Blu will get you to and from the airport. Really like the location away from the main islands, the hotel shuttle boat was easy to locate, just a little before the first taxi stand after getting off at San Marco heading toward Doge's palace. Only one bridge (5steps) to cross before making it to the landing area.

Eric

This hotel is a hidden gem, located on its own private island. The stunning gardens and outdoor pool provide a peaceful oasis. The rooms are spacious, with huge beds and views over the lagoon. Breakfast offers a wide variety of delicious food, with a view of the beautiful city.

Some minor improvements could be made.

Francis

Amazingly beautiful palace, skillfully renovated hotel, beautiful parks and gardens, spacious outdoor sections, quiet location, 10 mins boat ride to Venice centre, glamorous private boat transfer, huge grounds with well-maintained garden, swimming pool, kids club open till 10.30pm, well-dressed and mannered guests, grand and stylish atmosphere, friendly staff, great location with dedicated ferry to St. Marco's, comfy bed, spacious room, excellent breakfast, perfectly maintained estate, friendly and welcoming staff, feeling of being on a private island with rich history.

Everything is what I need and want.

Geoffrey

Exceptional staff, great shuttle service, beautiful views, luxurious amenities, delicious food.

Nothing to be said.
FAQ about San Clemente Palace Kempinski Venice
Which landmarks should we visit during our stay in the exclusive 5-star San Clemente Palace Kempinski?
Staying in the exclusive 5-star San Clemente Palace Kempinski guests can visit the grand showpiece square "Piazza San Marco" (1.3 miles), Ala Napoleonica (1.4 miles) and Basilica of St Mary of Health (1.5 miles), among others.
What are the recommended dining options during the stay at San Clemente Palace Kempinski?
At San Clemente Palace Kempinski guests can choose from 3 venues for in-house dining, among them - a highly rated à la carte restaurant Acquerello Restaurant (4 according to guests' reviews), featuring upscale prices.
Does the exclusive 5-star San Clemente Palace Kempinski Venice serve breakfast?
Yes, guests can enjoy buffet breakfast provided by the exclusive 5-star San Clemente Palace Kempinski Venice.
What is the timeframe for check-in and check-out in the 5-star San Clemente Palace Kempinski?
Guests of the 5-star San Clemente Palace Kempinski can check in from 3 PM to 11.59 PM and check out from 12 PM. Late check-in is also possible by prior arrangement with the property.
How much is a room at the hotel?
In the San Marco district of Venice, 5-star hotels offer an average nightly rate of €528. The room price at the hotel is €186 cheaper than the city average at only €342/night.
Which facilities are included in the rooms of the Venice hotel?
Certain suites at the Venice hotel boast views over the lagoon as well as feature complimentary wireless internet and a flat-screen TV with satellite channels and a safe box and smoke detectors for security reasons.
Does the staff at the exclusive 5-star San Clemente Palace Kempinski Venice speak any foreign languages?
Yes, the staff of the exclusive 5-star San Clemente Palace Kempinski Venice can help you in English, German, Spanish, Italian and Turkish.
Does the 5-star San Clemente Palace Kempinski offer rental services?
At the 5-star San Clemente Palace Kempinski guests can rent cars.
What sport activities are arranged at the exclusive 5-star San Clemente Palace Kempinski?
Active guests will appreciate fitness classes, a gym area and an outdoor tennis court as well as a fitness center offered by the exclusive 5-star San Clemente Palace Kempinski.
Does the hotel feature any spa facilities?
At a wellness center featured at the hotel guests can receive such spa treatments as beauty therapy, reflexology and body wraps. Additionally, Turkish steam bath, an outdoor swimming pool and locker rooms are offered on-site.
Is there a bar at the exclusive 5-star San Clemente Palace Kempinski?
Guests of the exclusive 5-star San Clemente Palace Kempinski are welcome to relax at the onsite pool bar.
Best-Rated Kempinski Hotels around Venice
Kempinski, a renowned luxury hotel brand, values its guests and offers exceptional services that cater to their every need. As a guest, you can indulge in world-class cuisine, unwind in lavish spa treatments or relax in state-of-the-art fitness centers. Impeccable attention to detail and warm hospitality will ensure a memorable stay for you at Kempinski.
466 reviews

436$ / night

335 reviews

205$ / night

685 reviews

165$ / night

211 reviews

319$ / night

746 reviews

221$ / night

69 reviews

109$ / night

597 reviews

502$ / night

168 reviews

354$ / night